The Richards family history
Our family history is a long one and one that's been connected to the land for as long as we can trace. Hailing from Cornwall in 1500's we moved to Lynton in Devon in the 1600's, back down to Falmouth in Cornwall before settling in the Tamar Valley in the mid 1700's.
In the early 1800's my great-great-great-great grandfather Thomas Richards, a labourer living in the tiny waterside hamlet of Morwellham, took a job as a Copper Miner in the new Mines which were opening there. By the 1860's Morwellham was described as "The Greatest Copper Port in Queen Victorias Empire". Thomas had become an Agent for the mining company by then and provided funds for his son Richard to buy a Barge to ferry the mined Ores down the Tamar and bring supplies back up.
Richard moved his Barge to a new Mine at Okel Tor near Calstock in 1850 but following the loss of his wife in 1860 he returned to Morwellham with his three small children to live with his father. But after many years sailing his Barge past Cargreen, probably stopping off to deliver coal and bones for the village bone mill on his way back to Morwellham, Richard decided to settle here and set up a Market Boat taking freshly grown produce from Cargreen to Devonport.
By 1875 Richard & his three sons William, Richard & Albert were a renowned Barge owning family with a small fleet of Barges servicing one of the busiest waterways in the south of England. The Tamar Valley has Southern facing slopes which warm up quickly and are protected from the northeast winds giving a mild climate. Along with the good rainfall here, it's been ideal place for growing fruit and flowers since the late 1700's.
By the 1890's with Richard retired my great-great granddad Albert saw the arrival of the first steamboats on the river Tamar. And with the new automobiles on the horizon he decided to sell the family barges and at around about the same age as I am now move into Market Gardening himself. Our first Nursery in Cargreen was born.
Albert was followed by my Great Grandfather Percy who in turn was followed by my Grandfather Horace. Either just before or at the start of the Second World War Horace along with his sister Gladys opened a shop in Devonport to enable them to sell their produce directly to the public, sadly the Richards family venture into retail was a short lived one as during April of 1941 with the Dockyard being Hitler's number one target whole area was laid to ruin including Granddads shop during the Plymouth Blitz. Horace joined the Home Guard and continued to produce much needed food.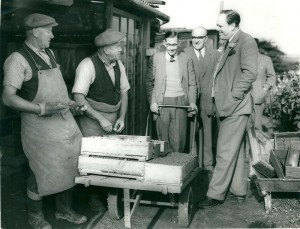 By the late 1960's Horace was one of the biggest growers in the area producing nearly 100 different crops on the two acre nursery in the heart of the village. Everything from Apples, Plums & Loganberries to Daffodils, Dahlias & forced Tulips.
Back then there was no such thing as imported flowers, everything sold in the UK was grown here. And Horace (pictured centre with Minister of State for Agriculture Christopher Soames in 1960) liked to do everything his own way even delivering the produce in his Bedford Lorry.
In 1971 with my father Barry wanting to specialise in growing flowers, Chrysanthemums and Carnations in particular, the next nursery was born. Highcroft was built on a plot of land at the top of the village and has been growing ever since. Starting with a single greenhouse producing Chrysanthemums.
Then with the change in demand we began to grow Carnations & Spray Carnations, all of this was still before imported flowers. Now pretty much all Cars' & Spray Cars' are imported mainly from Colombia with some seasonal ones from the likes of Turkey.
I don't believe there is anyone growing these crops commercially in the UK today.
In the mid seventies we were one of the first Nurseries to take part in trials to look into the viability of using Eucalyptus as a cut foliage for floristry. The trials were very successful and we've been growing Parvifolia ever since. The green leaf foliage is now one of the most commonly used foliages across the trade.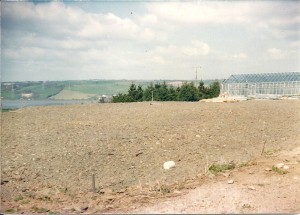 These early success stories enabled my dad to slowly level the gentle slopes of the Tamar Valley and build more Greenhouses & Polythene tunnels, just in time for a new crop to hit the UK markets in 1977.
Alstroemeria (Peruvian Lily) soon became our main crop which we're still growing to this day, quarter of a Century later.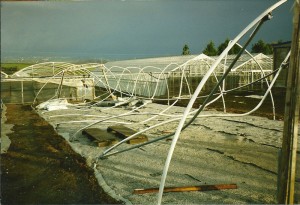 It's not always been easy though; in 1987 the SW was hit by the UK's biggest storm since 1703. A polythene tunnel is no match for hurricane force winds.
Out of 17 production houses at Highcroft only one survived with no damage, polythene sheets were ripped clean off, metal frames bent beyond repair and glass houses smashed to bits.
Over the years Highcroft Nurseries have seen many changes and many crops too, Carnations & Spray Carnations, Gyps, Tulips, Lilies, Iris, Pinks, Godetia, all sorts of seasonal crops as they became popular but then faded away with the change in trends.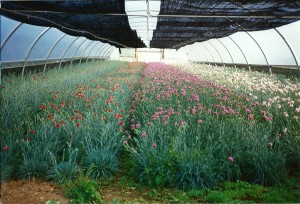 At it's height Highcroft saw 12 acres in full production with a full range of flowers and foliage. But the arrival of cheap imported flowers in the late 80's and 90's saw demand for Locally grown English flowers wither and a lot of British growers started to struggle and either left the industry or were forced out of business.
Annually the British flower industry on a retail level is worth £2.2 billion, to put that into perspective the UK Music industry is worth £2 billion a year. Yet only 10% of that figure are flowers produced in Great Britain compared to nearly 50% only 20 years ago and nearly 100% 50 years ago. But with the current economic crisis it's no longer cheaper to import many flowers. Sadly too late for the majority of British growers but a second chance for those of us left. We've already been able to fill redundant parts of the nursery with flowers cultivated from our Gardens and 2013 will see us growing Crops like Ranunculus & Misty Limonium which we've not grown for nearly 15 years. We've been growing things here in the Tamar Valley for around 120 years, we're not ready to finish yet!!
Paul Richards